I've installed a newer version of FusionPBX on new hardware and am attempting to transfer the sip provider to the new hardware but it isn't working. I'm using the exact same settings but when I try to start it, it doesn't start. It shows "stopped" in the Gateways page. It shows enabled True.
I've attached the log around the time I did the start.
Other than a bunch of AVMD error messages, I don't see anything. I've added a second attachement of the log of the old FB freeswitch.log file where I addded the sip provider back. That system is running Version 4.4.0.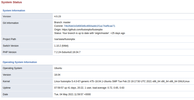 Last edited: