Anyone have any luck getting Flowroute working?
I've successfully got outbound working, but cannot get inbound. Public instance, hosted in a VM.

I also added the flowroute IPs and domain to ALLOW in ACL, I saw this as a potential solution.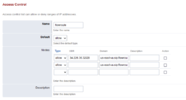 Also worth noting - I am seeing 4 registrations on the Flowroute interconnection page. This appears to NOT be normal, but this is all a learning experience for me!

Thank you very much in advance!